Let's be blunt. No one likes doing paperwork. If you still greet your clients with a clipboard on their very first interaction with you, you are missing out on a great opportunity to make a good first impression.
Wouldn't it be great if you could set yourself apart and offer beautiful electronic intake forms, which your clients could complete whenever and wherever was convenient to them?
IntakeQ removes the awkwardness of the intake process by offering a safe and elegant way of collecting client information. Our online intake forms are 100% customizable. This means that you can create any questions you want (you can even convert your existing form) and add your own branding so it looks just like an extension of your website.
You can even add your consent forms and require electronic signatures from your clients. This completely eliminates the need for paper in your intake process.
Massage Therapy Intake Form Templates
Creating your form templates is easy with our form editor, but you can also just send us your existing forms and we will set everything up for you.
We support a wide range of question formats, including body diagrams: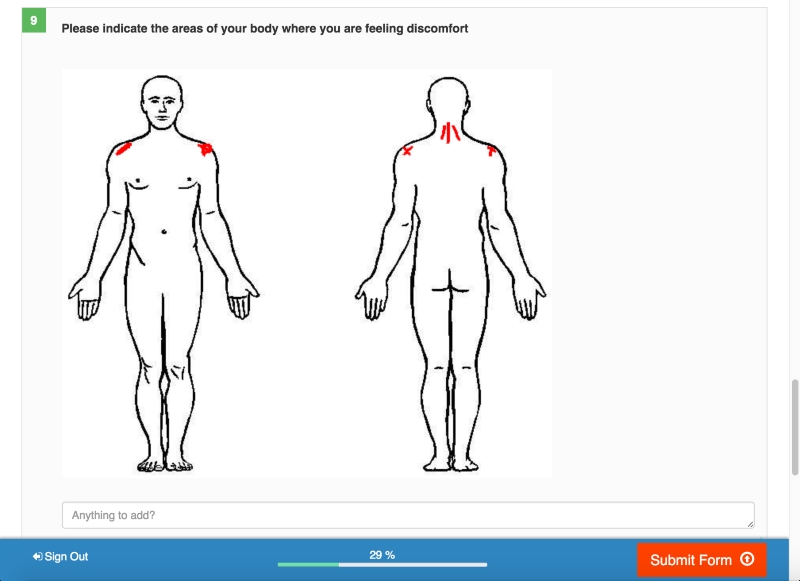 Intake Forms on the iPad
Most of our customers prefer to send the intake package to their clients privately a few days before the appointment. However, many of our massage therapist customers also use an iPad in their waiting room, so their clients can fill them out just before they go in.
Setting up your forms on your iPad takes 2 minutes. Click here for instructions.
Beyond Intake Forms
When you sign up for our 14-day free trial, you can also try our appointment management module. This is an easy way to add a booking widget to your website, that allows you to receive online credit card payments, is synched with your Google calendar and sends SMS or voice appointment reminders to your clients. Click here to learn more about it.
And the best thing about our scheduling module is that it is integrated with your intake forms. In other words, when your client books an appointment online, he/she can receive your intake package automatically.
Moving your intake forms to the cloud will not only impress your clients, it will also save you time and reduce costs associated with a paper-based system. Having a single place to manage all your intake paperwork, instead of maintaining file cabinets, will declutter your office and free up your time so you can focus on other aspects of your business.
Sign up for a 14-day trial and start to offer a better intake experience today.